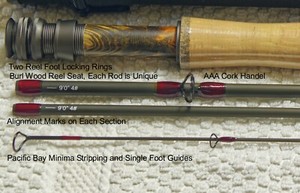 Buy now
ebay.com
User reviews
I have spent in excess of $700 on a fly rod and I have owned some that were $30, this rod is definitely on par (performance)with the higher end, no joke! It has a very nice flex curve, no strange dead spots and a lot of back bone.It is definitely a FAST action rod!! Fit and finish are A+. I got way more than I expected for the money! I immediately turned around and bought one of the Clark reels which is also a mindblower! And I can honestly say I will not be spending a fortune on any future rods or reels, I know exactly where to turn for what I need! And with the hundreds of dollars I save each time I'll just take a few days off and go fishing!
I mounted an Orvis 2/4 wt Sweetwater reel with 4 WF line on the reel. John was quick to reply to my questions about building the best combo for eastern trout streams and I could not be more pleased with the combo. Headed to the South Mills and French Broad Rivers next week and can't wait try it out!
Beautiful rod from a master craftsman. Rod is well balanced.